Electro Hydraulic Proportional Valves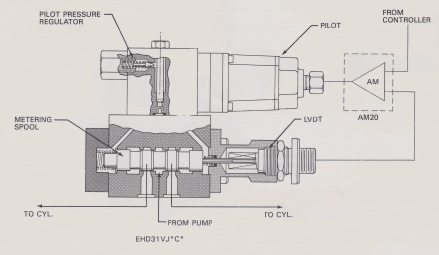 Electro Hydraulic Proportional Valves
August 7, 2020
Comments Off

on Electro Hydraulic Proportional Valves
These valves have hi-tech electronics and up to date hydraulic setup on them. With these elements you can determine the flow, not just turn in off and on. And this will help with making the circuit by eliminating how many components are needed.
This valve has three parts to it. There is a pilot or proportional solenoid, metering spot where the spool is at and the electronic feedback implement. To start the operation with an outside controlling unit that may be a computer with a programmable controller that has relay logic .
The control implement gives off electrical signals to the valve driver card that in turns gives the instructions to the pilot. And depending on what instructions it will produce more force on one side of the spool or the other, this will make more movement.
When the force is used toward the spool, it will move by opening a way that surfaces up from the pressure port and then on out to the cylinder port. If you move the spool further out it will be a much bigger way it makes. The more amplified rate of flow to the cylinder, the quicker the cylinder moves.
When the spool moves the detection is noted and it is looked at closely by the LVDT. That data is sent over to the driver card where it see if it is the same data is from the controller. If the two don't match up the driver will take the spool and move it til they do match up.
Spools come in three different varieties; equal metering spool, meter out and meter in. Equal metering is when the flow way is the same going in as it is coming out of the cylinder. Meter out is when there is no refrain on the coming into the cylinder, but there is on the way out. Meter in is when there is a refrain of flow way coming in, but not on the way out.
If you need more info on this subject or any others, call us at 800-361-0068
sales@hydrostatic-transmission.com