Vane Single and Double Pumps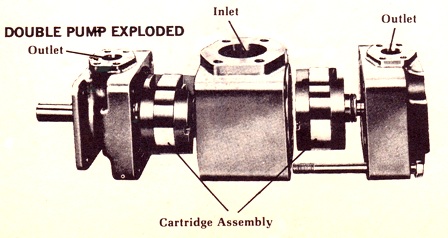 Vane Single and Double Pumps
June 12, 2020
Comments Off

on Vane Single and Double Pumps
Vane Single and Double Pumps
Vane pumps come in single and double. The single pump has one inlet, one outlet and a cartridge assy.      The double pumps have a housing that has tow cartridge assy., one or two inlets and the outlets are separate, there are two of them. A double pump is a pump that has one housing with two pumps.  When you have a double pump it can release two different flow rates from each of the outlets.
While the pump cartridges are joined to a standard shaft, a electric motor is engaged to drive the whole unit. These double pumps are many times deployed to hi-lo circuits and have two different flow rated that are catered from the same power unit.
If you have any questions or maybe you need your vane pump repaired, call us at 800-361-0068 or email us at sales@hydrostatic-transmission.com we will be glad to assist you.