Sundstrand Sauer Danfoss Hydraulic Pump Series 90 – General Knowledge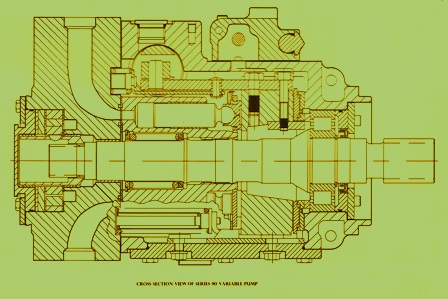 Sundstrand Sauer Danfoss Hydraulic Pump Series 90 – General Knowledge
September 11, 2019
Comments Off

on Sundstrand Sauer Danfoss Hydraulic Pump Series 90 – General Knowledge
At our Hydrostatic Pump Repair Site, we offer many types of Hydrostatic Transmission Repair and information relating to Hydrostatic Parts
Today we will discuss:
Sundstrand Sauer Danfoss Series 90 – General Info
Cleanliness is a key means of making sure that your hydraulic pump last for a long time. You will need to clean parts using a diluent to properly clean parts and use adequate time to let them dry. And you will need to keep them in an area that is dust, dirt and chemicals free away from parts. Make sure all seals are protected from contamination.
Parts that have motion between two parts need to be overlaid with a film of clean hydraulic oil. This gives the parts lubrication during start up.
When putting parts back together, all seals, orings and gaskets need to be replaced. Orings need a light lubrication of clean petroleum jelly before you install it. And before you install gaskets and seals, need a clean surface before putting them in.
If you need further assistance on this, please let us know.
Call 800-361-0068
email: sales@hydrostatic-transmission.com