Vickers Flex Side Plate Pump
Vickers Flex Side Plate Pump
March 24, 2021
Comments Off

on Vickers Flex Side Plate Pump
The plates that are for the inlet and outlet are the same. when pressure is provided behind each side plate that goes into the kidney shape piece, it is sealed by a distinct seal pack. Pressure builds up in the outlet and it also does in the cavities. The pressure cavities holds the plates in balance next to the rotor and give clearance for minimum internal leakage and friction.
The plates also give movement for supplying under vane pressure to the space between the vane and insert. The bronze faces of the flex plates seat up against the rotor and give wear and cold start specifics.
The inlet and outlet plates bear the weight of the plate in position and opens the way for fluids to go from the inlet to the pumping cartridge and from the cartridge to the outlet port.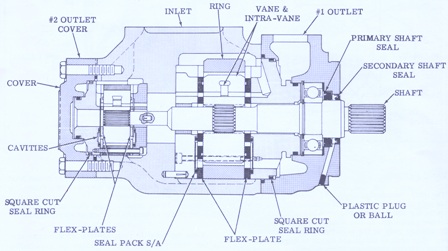 Call us for more information 800-361-0068
sales@hydrostatic-transmission.com