HD2 Series Axial Piston Pump and Motor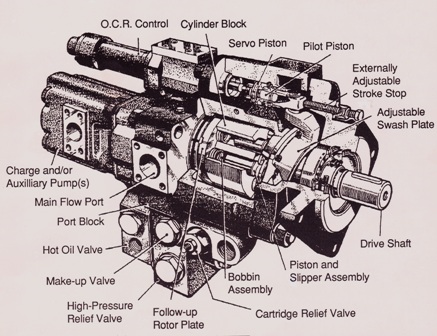 HD2 Series Axial Piston Pump and Motor
March 18, 2021
Comments Off

on HD2 Series Axial Piston Pump and Motor
On the inlet side of the HD2 pumps is induced to diminish noise, avoid cavitation, provide a flow of cooling oil and produce a standard of inlet filtration to give long life. They have alot of gear pumps that you can put on as charge pumps or add to a tandem or triple pumping division where the flow will help out other circuits. The take off power can go up 84 hp at 3000 rpm. You can get a high choice that will let the pump to be put in the tandem.
The pumps and motors have the same fixed displacement and some variable displacements that can be made to be a pump or motor. When used as a motor,the fluid goes into the cylinders that are over the high pressure kidney port. Pistons are coerced away from the inlet port. The response within the slipper pad on the piston and the inclined swashplate imparts a rotary movement of the cylinder block that turns the output shaft.
This unit has a floating rotor face that lets a shaft with two high capacity bearings to engaged and makes sure a uniform running clearance that diminishes contamination as low as possible.
Circuit valves that cross line and have a high pressure relief valve and a structured valve that supplies charge oil into the closed circuit systems. And when a hot oil valve gets rid of excess oil from the closed circuits to make it cooler and to filter the main oil flow.
Here are some control choices:
fixed capacity…………………………………………………………………………………………F Screw Adjustable…………………………………………………………………………………..SA Manual Servo Assist………………………………………………………………………………MS MS with Automatic Return to Neutral………………………………………………….MSNS Pressure Compensated………………………………………………………………………….CPSV CPSV w/Hydraulic Remote Pressure Control……………………………………….CPSV/P Pressure Compensated Mooring Control……………………………………………..CPR CPR w/Hydraulic Remote Pressure Control…………………………………………CPR/P Electro Hydraulic Control………………………………………………………………………EH Proportional Overcenter Remote Hydraulic…………………………………………OCR Control w/Automatic Return to Neutral OCR w/Horsepower Override……………………………………………………………..OCRCHP OCR w/Pressure Override…………………………………………………………………..OCR/P OCR w/Power & Pressure Override………………………………………………….OCR/CHP/P OCR w/Proportional Solenoid Control……………………………………………..OCR/E OCR w/Electro Hydraulic Servo Valve………………………………………………OCR/EH Constant Delivery Flow………………………………………………………………………CD Temperature Control for Cooling Fan Speed…………………………………….TC Automatic Constant Horsepower Variable Capacity Motor……………..CPM Load Sensing………………………………………………………………………………………..LS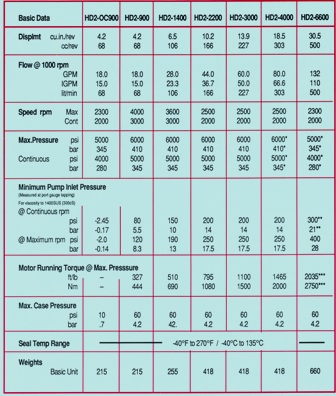 If we can assist you with pump or valves give us a call at 800-361-0068
or email us at sales@hydrostatic-transmission.com