Sundstrand Sauer Danfoss Series 40 – Part Identification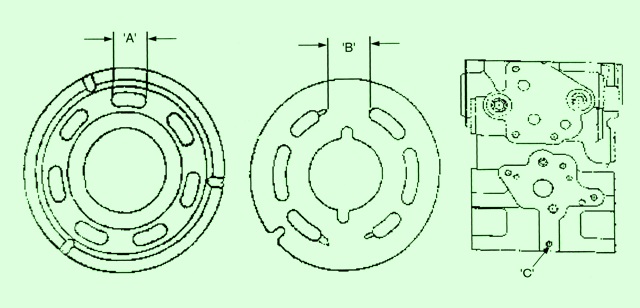 Sundstrand Sauer Danfoss Series 40 – Part Identification
May 30, 2017
Comments Off

on Sundstrand Sauer Danfoss Series 40 – Part Identification
Sundstrand Sauer Danfoss Series 40 – Part Identification
These are listed for M46 single pump and tandem displacement pump older style versus the new style of parts for which housings.
Some older parts will not fit the newer models they have out or vice versa.
The parts we will be looking at are the housing, valve plate and block.
The housing that is newer will take on the EDC and HDC controls, some of the older models will not at all or will take one or the other. The diagram below (C) shows the newer model with the hold threaded in, the housings before 86-14 do not have a hole at all.
The cylinder block diagram (A) the newer cylinder block dimensions are 1″ and the older one is .7″ when it refers to the hole space within the 2 lines.
The valve plates on diagram (B) the dimensions are .55″ and the older style is .9″, again referring to the space within the lines.
As Sundstrand improves it's line of products to make performance better, we will be here to help with any questions you may have.
So give us a call at 800-361-0068
email us at sales@hydrostatic-transmission.com