Hydraulic Shaft Stresses Part 1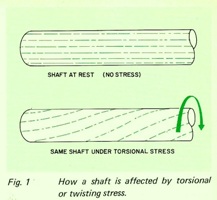 Hydraulic Shaft Stresses Part 1
March 2, 2016
Comments Off

on Hydraulic Shaft Stresses Part 1
At our Hydrostatic Pump Repair Site, we offer many types of Hydrostatic Transmission Repair and information relating to Hydrostatic Parts
Today we will discuss;
Hydraulic Shaft Stresses Part 1
There are three types of stresses on shafts:
1. Torsional Stress – twisting or rotation
2. Bending Stress
3. Axial Stress – parallel to the center line of the shaft
Different stresses affect the shaft and how much force is put upon them. Most times, the design of a shaft already has built in stress applications for different types of shafts. Examples of this would be:
bearing selection
speed
horesepower
Any plant engineer would know all these factors when he makes a certain shaft for a unit using different applications to ensure it will preform as expected.
Torsional stress is when the shaft actually twists when torque is applied. When it stops it goes back to it's original state.
Bending stress is held up by bearings, pulleys or gears put in place at points between eh bearings. Given the weight and the load put on the units will pull on the shaft, when this occurs it causes it to bend.
Axial Stress is when pressure is along the center line of the shaft. If used in hydrostatic transmissions, it is not much of a problem. The use of thrust bearings prevents end wise motion of the shaft.
Then there is Combination Stress, which is the two combined, torsional and bending. In which engineers make allowances for these types so the shaft will preform correctly.
Please leave a comment or if you have a question.
Call 800-361-0068
hydrostaticpumprepair.com