Reconditioning and Replacement of Parts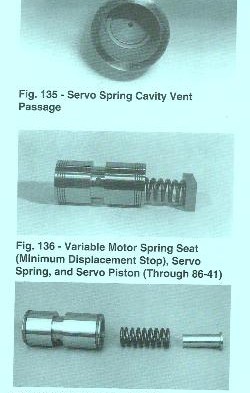 Reconditioning and Replacement of Parts
January 29, 2016
Comments Off

on Reconditioning and Replacement of Parts
Passages are drilled in the servo piston to vent the upper servo cavity to the housing. If the motor is equipped to utilize control pressure on both sides of the servo piston, one of these passages is plugged with a mandrel expansion plug.
If the motor is equipped with an auxiliary drive, the shaft seal is pressed into the counter bore in the housing until it bottoms.
Variable motors are not equipped with a feed back spring pin in the swash-plate.
Motors with date code 86-41 and below use the servo spring seat as a minimum displacement stop. The seat is available in various thicknesses.
For motors with date code 86-42 and above, the minimum displacement stop is available in various lengths.
If there is a topic you wish to talk about or have more explanation on, please let us know. We will do our best to help you out.
Feel free to join in the discussion of the day, would like to hear your thoughts.
You can call us at 800-361-0068
or email us at info@hydrostatic-transmission.com