Sundstrand Sauer Danfoss Series 20 – Taking Out and Putting In A Shaft Seal
Sundstrand Sauer Danfoss Series 20 – Taking Out and Putting In A Shaft Seal
March 24, 2022
Comments Off

on Sundstrand Sauer Danfoss Series 20 – Taking Out and Putting In A Shaft Seal
Taking out the shaft seal.
The retaining ring will need to come out of the housing, you will need a snap ring pliers. You might try to take out the side on the other side of the tang..do it first. The rasping of the oring holds the seal retainer on the outer diameter. Take out the seal by using a screwdriver, easily. The bronze rotating shaft stays in by place by the inner diameter. Gently take out the seal while trying not to harm the seating surface on the shaft. If the fixed seal didn't come out with the other seal, make sure to take it out, along with the springs.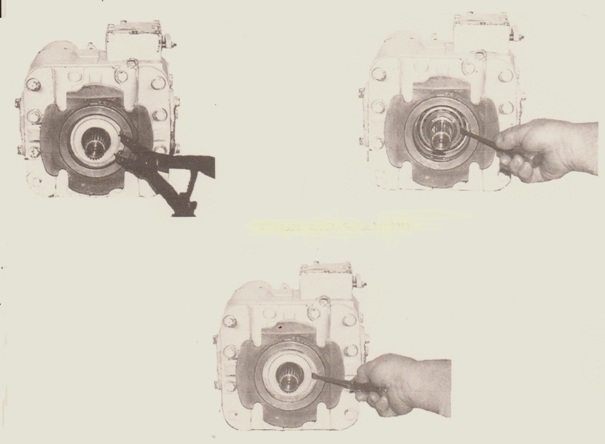 Putting in the shaft seal
Always make sure you have a clean surface as well as parts before you start putting them together. Make sure you do not put old parts with new parts. Don't reuse orings or gaskets, always put a new seal kit on. Next you will need to put some type of grease on the parts you are about to put on. You will need to put some kind of protective covering around the splines or keyed shaft, you don't want to hurt the seal or orings. Take out the bronze seal from your kit and put it on the shaft where the bronze sealing surface has been lapped with bronze seal area out. Try not to damage it or get debris on it. Make sure your springs are where are suppose to be, oring and line up the notch on the stationary seal to the pin in the seal retainer.
Put the stationary seal and seal retainer over the shaft and put it in the housing, while making sure the lapped bronze seal and stationary seal are touching each other thru the rotating seal. Take out the sleeve. Push together the seal housing inside to condense the seal springs and let the retaining ring groove in the housing. Put the retaining ring in the housing, make sure the bevel side is out. Put the side of the ring on the other side of the tangs go in the groove first.
If we can help with this or if you need us to repair your unit, call us at 800-361-0068
sales@htsrepair.com