Sundstrand Sauer Danfoss Series 90 55cc – Changes in Pump Makeup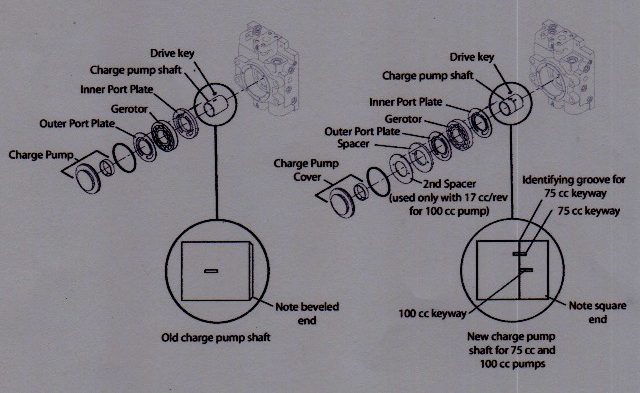 Sundstrand Sauer Danfoss Series 90 55cc – Changes in Pump Makeup
November 9, 2021
Comments Off

on Sundstrand Sauer Danfoss Series 90 55cc – Changes in Pump Makeup
The older style pump had two port plates, they were on the sides of the gerotor. The displacement for the charge pump happen to be lower than the highest that you could get on the pump's frame size, your inside plate is gonna be thicker and this is the size for (.05 inches) the outer plate.
On the new model, the port plates will be the same at .05 inches on both sides. If your charge pump displacement is less than what you can get, you will have to put two spacers between the charge pump and cover.
The keyway has changed also. On the 75 & 100cc pumps they have two keyways. This will create better engagement with the drive key within the gerotor. The back keyway by the splined end of the shaft goes with the 75cc and the foremost keyway goes to the 100cc. On the 55cc, 75cc and 100cc the pump shaft also changed from a bevel end to a square end that is located next to the pump end cap.
If you have questions about these units, give us a call at 800-361-0068
sales@htsrepair.com