FE1 & DFE 1 Electronic Flow Control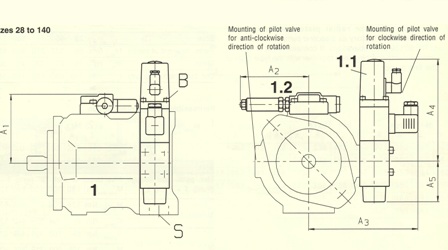 FE1 & DFE 1 Electronic Flow Control
April 16, 2021
Comments Off

on FE1 & DFE 1 Electronic Flow Control
The FE1 control is made for the electro hydraulic swivel angle control of the A10VO variable displacement pump. It can be used with analogue amp card VT 5041 and that will have to be purchased separately.
Control specs:
Hysteresis <1% of Vg max Repetitive accurancy <1% Pilot depletion max. approx. 1 L/min
Ports
B Pressure Ports S Suction port L,L1 Case Drain Ports (L1 sealed)
Components
1 A10VO that has hydraulic control device 1.1 Proportional valve STW0063 1.2 Original positional transducer lw9-03-01 Control Electronics
DFE1 Pressure & Flow Control
When you have pressure and flow control it is carried out by an electrically controlled proportional valve. The flow control is done by way of the variable pump swivel angle and most any contrast in drive speed. It is brought on by the diesel motor isn't modified. The pump pressure and position are added on by way of a pressure sensor and original positional transducer to the appropriate amplifier card. It to can be made to use analogue amplifier card vt 5041. The sensor and card you will have to buy extra. You will need to mount the pressure relief valve and the pressure control for safety reasons and for it to work correctly.
Ports
B Pressure port S Suction port L,L1 Case drain ports (L1 sealed)
Components
1 A10VO that has hydraulic control device
1.1 Proportional valve STW0063
1.2 Original positional transducer lw9-03-01 Control Electronics
Control Data
Hysteresis <1% of Vg max
Repetitive accurancy <1%
Pilot depletion max. approx. 1 L/min