Axial Piston Pump/Motor HD2 Series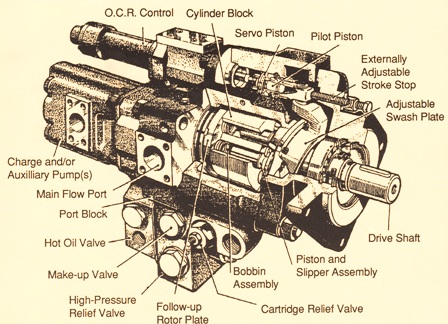 Axial Piston Pump/Motor HD2 Series
October 30, 2020
Comments Off

on Axial Piston Pump/Motor HD2 Series
These pumps are 18 to 132 gpm at 1000 RPM's with pressures up to 6000 PSI. They offer open circuit and closed. The closed units rotate either way, but having auxiliary pumps make it go in one direction. Closed circuit are just one direction.
They are simple in design and are small, fixed or variable displacement units. They can go either way and any rotation. When you want to control the flow of a variable displacement unit you can tilt the swashplate.
Several pistons are put in to place axially in a cylinder barrel that goes to the main mover that is guided by a drive shaft. Pistons have a slipper that goes directly on the swashplate in an upright position. The slippers are up against the rotor face while being pressure balanced that has grease on them to prevent power loss.
These pumps have the hovering rotor face that lets you have a firm shaft. It also has two bearings that have a even running clearance that eliminates contamination as much as it can.
Here is a chart below that gives some basic data on these compact units.
Let us know if we can assist you ordering, parts, repair or general questions.
800-361-0068
sales@hydrostatic-transmission.com