Vickers VQ Series Vane Pumps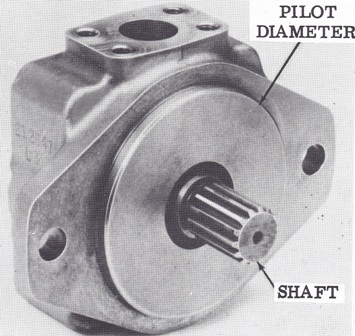 Vickers VQ Series Vane Pumps
April 15, 2020
Comments Off

on Vickers VQ Series Vane Pumps
Vickers VQ Series Vane Pumps
When there is a pilot on the pump mounting like this one, it makes sure it is the right fit for the mounting and shaft alignment. Making sure that the seal is on there correctly on the accessor pad of the power source.  Also, don't over tighten the flange mounting screws so that is want cause it to miss-align.
Make sure your gaskets lie flat up against the metal and the shaft keys and couplings need to in their seated slots so it want slip or shear when other pieces are placed on them. Indirect drive is not needed for this unit.
Pump shafts are made to be put together in couplings with a slip fit or light pressing. If you pound the coupling you will mess up the bearings. Pumps are usually done in RH rotation (R), if you need LH (L) you will need to look up the correct code for it. Don't try to drive a pump in the incorrect direction it will score it. And more parts will need to be ordered.
If you need more info on these types of pumps or any others, call us at 800-361-0068
sales@hydrostatic-transmission.com