Eaton Hydraulic Series 76 Variable Motor Pressure Response Control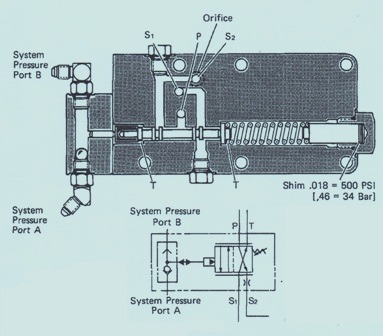 Eaton Hydraulic Series 76 Variable Motor Pressure Response Control
August 9, 2019
Comments Off

on Eaton Hydraulic Series 76 Variable Motor Pressure Response Control
Eaton Hydraulic Series 76 Variable Motor Pressure Response Control
This control automatically chooses the correct speed range that helps beat suits in loads. The valve is a proportional 4 way valve that is spring biased and it is operated by system pressure. When the pressure is below the set pressure, the motor is biased to use the minimum displacement. When your load is high and the pressure reaches it preset limit, the motor displacement goes high it will hold til it reaches it maximum displacement.
The biases spring pushes the control spool in a set position and the porting control pressure goes to the servo piston. And minimum swashplate angle is limited by the s1 servo piston. You can vary the swashplate angle by adding or taking away a shim.
There is a check ball is between the two system pressure sensing fittings that is similar to being a shuttle valve that corrects the system pressure to the sensing pin. The system pressure is directly up next to the control sensing pin thru the correct valve. When it is up against the sensing pin area it creates a force to get over the bias spring force, it will make the control pressure be moved to the S1 servo piston, that makes the swashplate go toward the higher maximum displacement for a lower speed range.
If you need more help with the response control, call us at 800-361-0068
sales@hydrostatic-transmission.com