Sundstrand Sauer Danfoss Series 90 Change in Leveler Spring Shim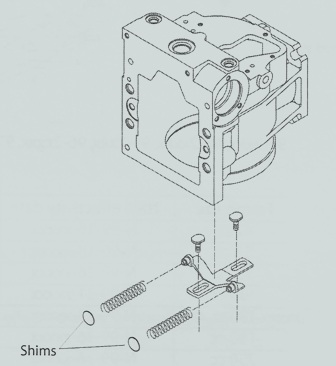 Sundstrand Sauer Danfoss Series 90 Change in Leveler Spring Shim
February 21, 2018
Comments Off

on Sundstrand Sauer Danfoss Series 90 Change in Leveler Spring Shim
Sundstrand Sauer Danfoss Series 90 Change in Leveler Spring Shim
The date code for this change should be A-92-06-xxxxx not A-02-06-xxxxx. They have standardized the spring shims for the following: 55cc0, 75cc and 100cc variable displacement pumps. They were using two different shims in the past. One was for the 55cc and 75cc, the other for the 100cc. The new design will be used in all three sizes.
For pumps dating A-92-06 and A-02-06, it is interchangeable with these pumps. If they are built prior to these date codes, you will need to use the old shims. The new shims outer diameter is larger than the old ones, it will not seat correctly if you try to use these in the end caps.
If you need further information on this topic, please let us know.
Call 800-361-0068
sales@hydrostatic-transmission.com