Sundstrand Sauer Danfoss Series 40 – How To Install A Shaft Seal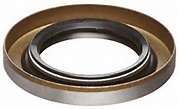 Sundstrand Sauer Danfoss Series 40 – How To Install A Shaft Seal
February 15, 2018
Comments Off

on Sundstrand Sauer Danfoss Series 40 – How To Install A Shaft Seal
Shaft Seal
Hydrostatic Transmission Service,LLC offers lip type shaft seal on Series 40 pumps and motors The seals on these pumps and motors can be replaced with no major disassembly to the unit, although, replacement of the shaft seal calls for removal of the pump or motor from the machine. Then take out the retaining ring from the housing.
With great ease take out the seal from the housing bore. A slide hammer type puller should be used to aid in prying the seal out, otherwise the seal may become punctured if using a sharp instrument. Restraint should be taken so the housing bore or shaft doesn't become damaged. The seal is not reusable after it's removal.
Before installing the new seal, look the sealing areas over on the shaft for rust, wear, or contamination. Also if it calls for it polish the sealing area.
The key end of shaft needs to be wrapped with lightweight plastic to avoid damage to the seal lip during installation. Grease the inside thickness of the new seal with petroleum jelly.
Slide the new seal over the shaft and press it into the housing bore. Be careful not to damage seal. A seal installer tool can be made to aid in installing the seal. Dimensions for this tool are shown in the accompanying drawing.
Reinstall the seal-retaining ring.
Need further assistance with this topic, please let us know.
Call 800-361-0068
sales@hydrostatic-transmission.com
hydrostaticpumprepair.com