Sundstrand Sauer Danfoss Series 40 Charge Relief Valve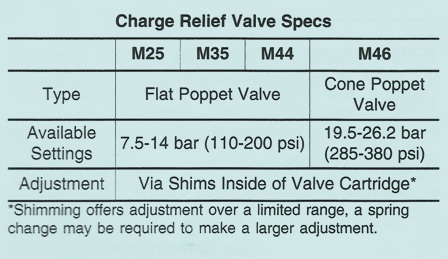 Sundstrand Sauer Danfoss Series 40 Charge Relief Valve
March 13, 2017
Comments Off

on Sundstrand Sauer Danfoss Series 40 Charge Relief Valve
Sundstrand Sauer Danfoss Series 40 Charge Relief Valve
A charge pressure relief valve is a relief outlet for charge pressure. It sets how the flow goes thru the valve that is ported to the case.
The valve for the M25,M35 and M44 is a flat poppet valve. The M46 is a c one poppet.
The factory set pressure is 1800 rev/min in neutral position. And it takes in account of the spout speeds and what is needed for the control.
If you don't have a charge pump on there the pump is set at 191 min.and they need to have sufficient charge flow to charge the inlet so it will have constant charge pressure at all times.
If you have questions about this unit, please let us know.
800-361-0068
sales@hydrostatic-transmission.com