Sundstrand Sauer Danfoss Series 40 M46 Displacement Limiters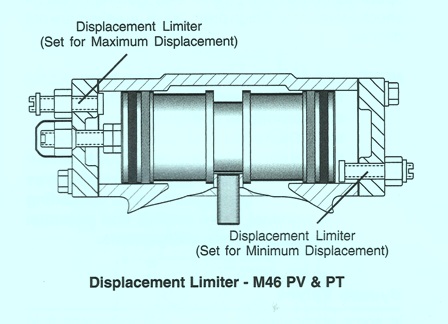 Sundstrand Sauer Danfoss Series 40 M46 Displacement Limiters
March 3, 2017
Comments Off

on Sundstrand Sauer Danfoss Series 40 M46 Displacement Limiters
Sundstrand Sauer Danfoss Series 40 M46 Displacement Limiters
The units M46, PV and PT have mechanical displacement limiters that are in the servo covers (this comes as an option). The highest displacement setting can be set from 0 to any amount from its maximum displacement in either or direction. You can adjust the settings by rotating the limiter screws.
A full turn of the screw shows a change of about .24 inches. A full unit displacement is accomplished by the adjuster screw at it highest extension from the servo cover. When you get your pump from the factory the limiters are set at the maximum displacement. And anti tamper seal sleeves are issued also.
All limiters may not be suited for every operation, consult manual or call the dealer.
If you need further questions concerning this subject, please let us know.
800-361-0068
sales@hydrostatic-transmission.com