Ball and Roller Bearing Lubrication – Oil and Grease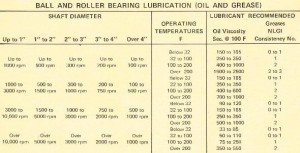 Ball and Roller Bearing Lubrication – Oil and Grease
March 30, 2016
Comments Off

on Ball and Roller Bearing Lubrication – Oil and Grease
At our Hydrostatic Pump Repair Site, we offer many types of Hydrostatic Transmission Repair and information relating to Hydrostatic Parts
Today we will discuss;
In the picture it shows ball and roller bearing temperatures and the recommendations for oil and grease.
If your manufacture has different recommendations, always follow that. This is generalization of guide lines.
We are here if you need more information on this subject. You can leave a comment or call 800-361-0068
sales@hydrostatic-transmisison.com is our email address.