Sundstrand M46 Shaft Seal Removal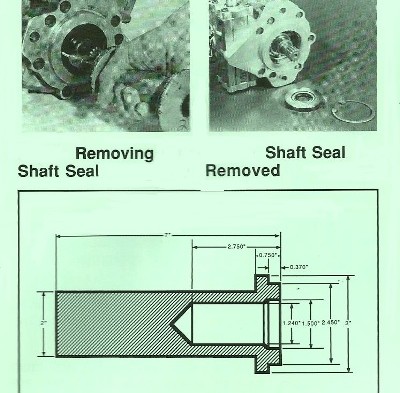 Sundstrand M46 Shaft Seal Removal
January 20, 2016
Comments Off

on Sundstrand M46 Shaft Seal Removal
At our Hydrostatic Pump Repair Site, we offer many types of Hydrostatic Transmission Repair and information relating to Hydrostatic Parts
Today we will discuss
Sundstrand Sauer Danfoss Series 40 M46
Shaft Seal Removal
Lip type seals are used on the Series 40-M46 pumps & motors. The replacement of these seal do not require major dis-assembly of your pump or motor. But, if you need to replace the seal, you must remove the pump/motor from the machine.
You will need to remove the retaining ring from the housing.
Take your time removing the seal from the housing bore, as the face of the seal can get punctured from a screw driver to help take off the seal. Be good to use a slide hammer type puller to take off the seal.
Also, watch not the damage the housing bore or the shaft. Once you take off the seal, throw it away (it will not be useable again).
Before putting on your new seal, look for rust, wear and tear, contamination on the shaft. If necessary, polish the sealing area on the shaft.
Then put some type of wrapping around your shaft as not damage the splines or key end of the shaft, so you will damage the lip seal while installing your seal.
Put lubrication on the inside diameter of the new seal with type of grease or petroleum jelly.
Note: the outside diameter of the seal may be lightyly coated with a sealant (such as Loctite High Performance Sealant) prior to putting it on. This will prevent leaks.
Slide the new seal over the shaft and press it on the housing bore. Do not damage the seal.
There is a diagram of the tool that will aid in the installation of the seal.
Then lastly reinstall the retainer ring.
Call today if you need further information on the topic or any repair questions you may have, we will be glad to assist you.
Hydrostatic Pump Repair
800-361-0068
hydrostaticpumprepair.com