Sundstrand Sauer Danfoss – Assembly of Hydraulic Variable Displacement Pump Part 4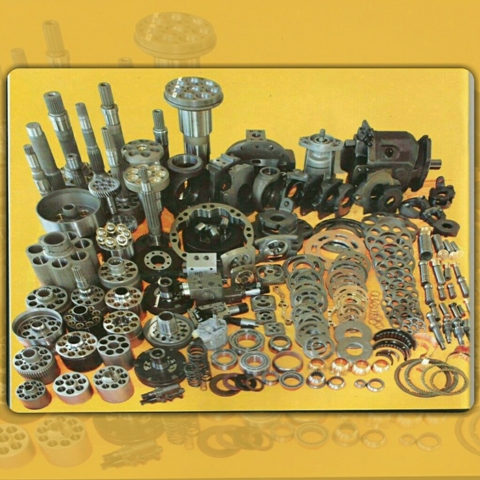 Sundstrand Sauer Danfoss – Assembly of Hydraulic Variable Displacement Pump Part 4
September 28, 2018
Comments Off

on Sundstrand Sauer Danfoss – Assembly of Hydraulic Variable Displacement Pump Part 4
Sundstrand Sauer Danfoss – Assembly of Hydraulic Variable Displacement Pump Part 4
At our Hydrostatic Pump Repair Site, we offer many types of Hydrostatic Transmission Repair and information relating to Hydrostatic Parts
Today we will discuss:
Part 4 of Assembly of Variable Displacement Pump/Motor Series 40 M46
The bearing sleeve link is installed into the swashplate link pin with its offset positioned to help with clearance for the swashplate journal bearings.
Put the swashplate into the housing. The bearing sleeve link needs to be positioned so the large center groove is in the servo piston and the swashplate needs to rest on the piston slippers.
Do not damage the sealing surface, set the first retaining ring onto the shaft and press on the ball bearing. Then nestle the second retaining ring.
Put in the shaft and bearing assembly into the front cover and set the retaining ring.
The swashplate journal bearing needs to go on the front cover.
You should always put in new swashplate journal bearings if a new swashplate is being put in.
Put a new front cover gasket onto the housing. Next goes the front cover, shaft and bearing into reference as an assembly. Align the shaft splines with the cylinder block splines. Then lower the assembly into the area while aligning the end cover with the swashplate journal and the end of the shaft with the housing needle bearing. The shaft and front cover are properly put together, then the cylinder block spring will hold the cover away from the housing and gasket at the utmost distance of 1/8 in.
Set the seven screws that retain the front cover to the housing. Torque the 3/8″ screws to 39 to 47 lbs ft and the 7/16″ screws to 60 to 74 lbs ft (the larger screw is positioned in the hole with the alignment sleeve).
Turn the shaft to the correct assembly. When it sits in the right position, use torque of 4 to 8 lbs ft. This is enough to turn the shaft.
Next is to assemble the inner components
Shaft Seal
Charge Pump
Auxiliary Mounting Pad (when applicable)
Control
Filter Adapter
Charge Relief Valve
Charge Check/ High Pressure Relief Valves
Bypass Valve
Once the pump is put back together, the neutral adjustment for the servo piston and the control needs to be mad before the pump is put into service. The displacement limiter should also be adjusted.
Have any questions on this topic, drop us a line. Be glad to help
Call 800-361-0068
Email: sales@hydrostatic-transmision.com