Sundstrand Sauer Danfoss Series 90 – Cylinder Spring & Journal Bearing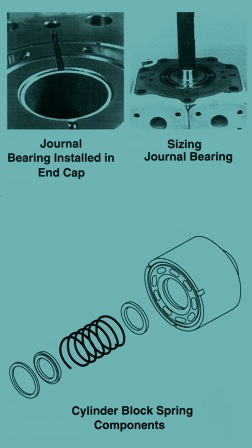 Sundstrand Sauer Danfoss Series 90 – Cylinder Spring & Journal Bearing
May 1, 2018
Comments Off

on Sundstrand Sauer Danfoss Series 90 – Cylinder Spring & Journal Bearing
At our Hydrostatic Pump Repair Site, we offer many types of Hydrostatic Transmission Repair and information relating to Hydrostatic Parts
Today we will discuss
Sundstrand Sauer Danfoss Series 90 – Journal Bearing and Cylinder Spring
If the bearing is put in right, the bearing will be tightly up against to .020 in. below the valve plate of the end cap.
If it is a new bearing that you are putting in, the bearing needs to be sized with the right arbor to make sure the minimum bore diameter is correct. Be easy putting in, carefully pressing the arbor in the bearing to size it.
Note: Arbors are a precisely finished to size the journal bearings without hurting them. If you damage it all, it will have to be replaced. Drive shafts are not to be a replacement either. If you use it damaged, it will just cut the life of the bearing from poorly lubrication clearance.
The put in the cylinder block spring and take out the spiral retaining ring, retainer, spring and spring seat. Just put back together in the reverse manner you took it off in.
If you need assistance with this, please call us at 800-361-0068
email: sales@hydrostatic-transmission.com