Sundstrand Sauer Danfoss Series 20 How To Tell Bad Valve Plates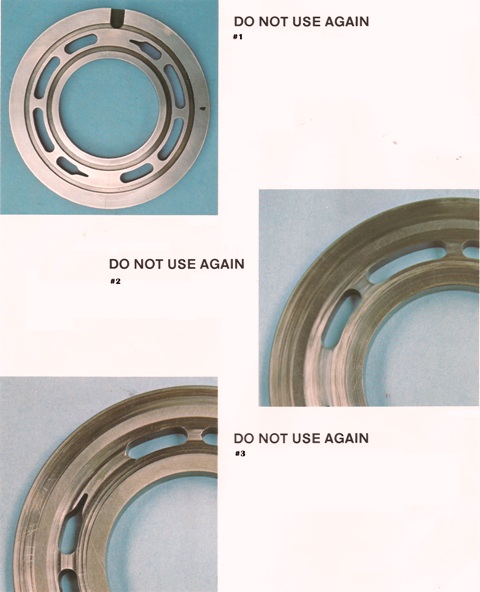 Sundstrand Sauer Danfoss Series 20 How To Tell Bad Valve Plates
April 10, 2017
Comments Off

on Sundstrand Sauer Danfoss Series 20 How To Tell Bad Valve Plates
Sundstrand Sauer Danfoss Series 20 How To Tell Bad Valve Plates
In diagram #1 you can see there is contamination on the under side of the valve plate. It can cause damage in that can make the plate lift up. This will cause massive leakage and cause damage to the bearing plate also.
In diagram #2 can smearing marks on the valve plate. This is cause by poor lubrication, lack of or not proper fluid used in the system and/ or high temperatures.
In diagram #3 you can see the grooves that were made between the ports. And you can see smearing also, meaning there was some contamination within the hydraulic fluid to cause damage to the plate.
If you have this damage to your valve plates, it is wise to consult a hydraulic dealer about replacing your part.
If you need further info on this subject, please let us know.
800-361-0068
sales@hydrostatic-transmission.com