Sundstrand Sauer Danfoss Series 90 Auxiliary Mounting Pad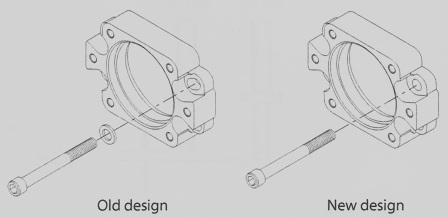 Sundstrand Sauer Danfoss Series 90 Auxiliary Mounting Pad
August 17, 2016
Comments Off

on Sundstrand Sauer Danfoss Series 90 Auxiliary Mounting Pad
At our Hydrostatic Pump Repair Site, we offer many types of Hydrostatic Transmission Repair and information relating to Hydrostatic Parts
Today we will discuss:
Sundstrand Sauer Danfoss Series 90 Auxiliary Mounting Pad
The mounting pad on a SAE C has been revised to cope with more endurance and lessen the amount of wear and tear. The older style and new style are interchangeable. The new mounting pads have it's own frame size that do not include slotted mounting holes. The screws are the same, but don't have washers.
The old style pad is not longer available and the service parts are not longer available either.
If you need further help with this topic, please let us know. We will do everything we can to assist you.
Call 800-361-0068
Email: sales@hydrostatic-transmission.com