Pilot Operated Check Valve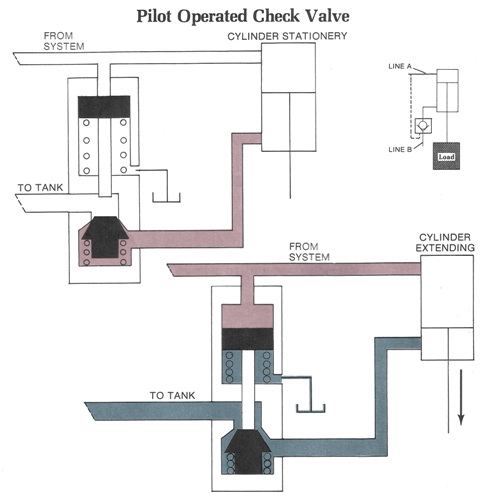 Pilot Operated Check Valve
May 9, 2016
Comments Off

on Pilot Operated Check Valve
At our Hydrostatic Pump Repair Site, we offer many types of Hydrostatic Transmission Repair and information relating to Hydrostatic Parts
Today we will discuss;
Pilot Operated Check Valve
A pilot operate check valve lets it flow free from its inlet port to it outlet port. Fluid flow that is trying to pass thru the valve from outlet to inlet port will have to be made to make the poppet on its seat. The flow thru the valve is blocked.
When it has had enough pilot pressure sensed at the plunger piston, it moves the plunger and unseats the check valve poppet. Flow can pass thru the  valve from outlet to inlet as long as enough pilot pressure is engaging the plunger piston.
With a pilot operated check valve blocking flow out of cylinder line B, the load will stay suspended as long as the cylinder seals remain effective. When it is time to lower the load, system pressure is given to the cylinder piston thru line A.
Pilot pressure to engage the check valve is take from the cylinder line. The check valve can remain open as long as there is enough pressure is given to line A.
To make the load go up, fluid flow can pass thru the valve, making this the valve's free flow direction.
Leave us a comment or a question, we will be glad to help you.
Or call 800-361-0068
sales@hydrostatic-transmission.com